Wednesday, November 29, 2006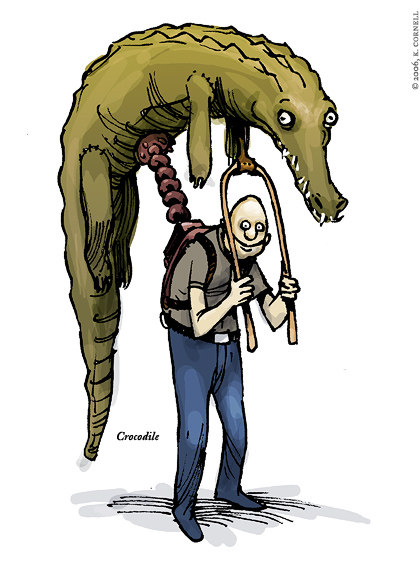 The Human Goes: "Turt! Turt!"
In the beginning of sketchbook 16, I was doodling away when I happened to spew out a fellow with a turtle strapped to his back. Now, it was supposed to be a guy with a turtle shell — but as it happens I accidentally included the turtle's head — changing the context of the drawing in a way I hadn't expected. Suddenly, this seemed to be just a regular guy who was wearing some half-assed turtle costume, made from a turtle, while he imitated a turtle. I found the concept interesting, so I explored it a little more, with a fellow wielding a fake giraffe head.
While I liked the idea of these people/animal contraptions, I didn't delve into the concept too deeply after that — though I did play with it a little more on the next page:
And that was that. Time passed. The "Peoplemals" were forgotten.
A Concept Revisited
The other day, paging through the sketchbook, I noticed the "Turt" fellow again and thought it was time to dig in and find the bottom of this concept. So I drew up a couple more examples, trying to stick close to the idea of normal people who just kind of have an animal "accessory". This morning — after deciding they were post-worthy — I scanned in the black & white art and quickly dashed on a little digital color. Here's a pretty interesting pair:
These two also turned out well:
I particularly liked the Buck, and debated for a while whether to post him up top instead of the Crocodile. In the end, I went with the picture that had the most Crocodiles in it. Which turned out to be the Crocodile, which had 1 Crocodile. The Buck has 2 Crocodiles, but they're invisible. So I guess "visible" Crocodiles would have been a more appropriate way to phrase that. I'm not a writer.
Picnic Mountain Man
After finishing a couple more of these, I was looking for some blank space to continue when I passed over a drawing that Sutter had done in this sketchbook. And it occurred to me, it might be fun to try and translate one of the denizens of Picnic Mountain as well:
I have to say, I could see putting out a collection of these Peoplemals in a book. Lord knows I have enough for a few more posts. But whatever I decide, I'm surely going to have to whip up one of these animal contraption/accessories. People are much more likely to show me the respect I crave with a Crocodile strapped to my back.
Author's Edit (added at a later date)
Interested in seeing more Peoplemals? Even more incarnations are living in the Work Section...
In Other News
I've recently been coding like a madman, the effects of which you're probably looking at now, without even noticing. I've restructured the html and css of pretty much the entire site, and finished implementing everything this morning. The major benefit of this is that the site is finally readable with styles off, or in handheld devices, but I've also taken care of a bunch of little nitpicky issues that probably only bothered me. Like I said, only a few treatments are different, with the exception of a new footer that displays the Definitively unimportant Miscellanea and Omnium-Gatherum that used to be only on the homepage.
So if you see anything wonky, and suspect I don't know about it, feel free to LET me know about it. My door is always open. Open for electronic letters. It's a lead door, so they don't get in unless I leave it open and... uh... yeah.